In the March 2017 Newsletter
A Success Factor in Life / Events / Blog
Why do we treat some animals differently than others? Some people treat dogs and cats as family members, yet choose to kill and eat other animals. Is this hypocrisy? A good question posed by Juliet Spitz, a Girl Scout in my troop of high schoolers, who just earned her Gold Award. She completed a project called "Why Love One and Hurt the Other?" Along the way, Juliet learned and reminds us of one of the most important success factors in life.
Gold Award
The Gold award is the highest earned award in Girl Scouting. Similar to the well-known Eagle Award in Boy Scouts, the Gold Award is the pinnacle — it's something I personally aspired to earn but never attained. Coming from a scouting family where both of my brothers are Eagles, I really wanted to earn my Gold, but I didn't know how to find the help I needed to complete it. Because of this 'failure,' I became committed to helping Girl Scouts who wanted to complete their Gold, and it became a passionate purpose of mine.
Juliet's Gold Process
From day one of joining my Girl Scout troop as a 9th grader, Juliet communicated her interest in going Gold. Yet she struggled. She found an issue that involved bridging the gap between high and low academic achievers in elementary school, a topic which seemed to fit her interest in becoming an elementary school teacher. She worked on a proposal, could not find an advisor, but finally completed it with the help of inputs from many others. The proposal was conditionally approved. It took a lot of time and many iterations through most of Juliet's 10th and 11th grades, but it didn't seem to get off the ground. Juliet was moving slowly. She didn't really seem that interested in the project. Would she finish?
Then after finally getting it approved and having a community advisor, Juliet confided in me, as she began 12th grade, that she wanted to drop this project and work on something totally different — awareness building on animal cruelty. In my role as the troop Gold advisor, knowing that she had a deadline, I advised, "Just stick with your current project. You'll have a limited amount of time as a high-school senior. Get it finished. Move on. It's your decision, but work on animal cruelty later."
The Girl Scout Council Highest Award manager, however, had a different reaction, "This is your project, Juliet. You can drop one and design another. It's up to you."
Pursuit of Passionate Purpose
Juliet had found her passion — ending animal cruelty. She aligned it with a purpose, building awareness of unfair cruelty toward animals and encouraging people to become Vegans. She worked on a new proposal with greater energy. She found a committed advisor. Surprisingly, this proposal was more quickly approved by the Girl Scout council, although it still needed modifications on such a sensitive issue. Juliet designed her lesson, a presentation that encouraged participants to question and change. She found and presented it to over 80 interested teens in youth groups, girl scout troops, and religious organizations. She reached out to dozens of animal organizations. She published a series of easy Vegan recipes to encourage people to try this lifestyle change. Learn more.
As she assessed progress in finishing her Gold report she observed, "The most important factor contributing to completing my Gold Award was PASSION." With Juliet's new project she followed, whether she knew it or not, the 4-stage Pursuit of Passionate Purpose process. Would she have finished the first project for which she lacked passion? It's not clear. What is clear is that passion worked for her and she finished!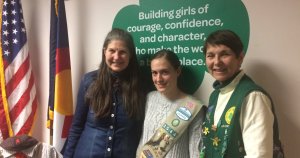 Summary
Juliet and her successful Girl Scout Gold Project taught me a lesson I thought I had learned earlier in researching and writing my book, Pursuit of Passionate Purpose. We all need to be reminded. "Passion is the fuel. It makes all the difference. Find your passion, align it with a meaningful purpose, pursue it with your heart and soul, and then assess progress. Make mid-course corrections, if need be, and continue the pursuit. It is the pursuit of passionate purpose and the connections along the way that bring meaning and satisfaction to life."
Upcoming Public Events
April 23, 2017. Girl Scouts of Colorado Highest Award Ceremony. See Juliet, Molly (featured in my February 2017 newsletter), and others receive their Gold awards in Loveland, CO. 2:00 PM MDT. Free. Learn more.
April 23-26, 2017. SpeechTEK 2017 in Washington, DC. Radish Systems and Theresa speak on how 'voice with visuals' improve patient satisfaction and reduce costs for diabetic health coaching. Contact me to schedule a meeting.
April 27, 2017. Oracle's Modern Customer Experience in Las Vegas, NV. Radish Systems, an Oracle Partner, is participating. Contact me to schedule a meeting.
April 28, 2017. Theresa speaks on "Pursuit of Passionate Purpose" at the Healthcare Financial Management Association in Yorba Linda, CA.
May 4, 2017. Prime Health Innovation Summit in Denver, CO. More details to follow.
Practical Information for You
GIVE THE GIFT OF PASSIONATE PURPOSE. You can buy my book at the Passionate Purpose Store. It's a meaningful gift that keeps on giving.
RADISH. Interested in more of the Radish story? Follow Radish @RadishSystems or @ChoiceView on Twitter. And subscribe to Radish's RSS feed.
BLOG. Check out my latest Radish Sprouts blog posts about business, career, and life performance.
Resolve in 2017!
Theresa M. Szczurek, Ph.D., CMC®
Radish CEO, Entrepreneur, Certified Management Consultant, Author, and Speaker
Pass it on. Feel free to share this newsletter, using my name and copyright declaration, with your colleagues.