In the August 2018 Newsletter
Crossing the Chasm / Events / Blog
Welcome to colleagues from DWEN, Springboard Enterprises, Women's Forum of Colorado, and other groups! I'd like to keep in touch. However, you can unsubscribe anytime.
Entrepreneurial ventures bring to market and diffuse new products and services. The end goal, never to be forgotten, is to sell enough at a profit so that the firm makes money. Along the way, these pursuits of passionate purpose deliver real rewards of meaning and connections. But, delivering financial results can be difficult.
The Problem
Everett Rogers, in his book Diffusion of Innovations, developed a theory on how, why, and at what rate new ideas spread. It explains that diffusion is the process by which an innovation is communicated over time among the participants in a social system. Technology makes its way through the population in a bell curve distribution called the Technology Adoption Life Cycle.
The Innovators, as explained by Geoffrey A. Moore in his book Crossing the Chasm, are Technology Enthusiasts and the first customers for anything that is brand-new. "They don't have any money. Only with their endorsement can a discontinuous innovation get a hearing, and so we often "seed" (read "give") products to this community to gain their support." These techies desire to explore.
The Early Adopters are Visionaries that have an extraordinary influence because they will bring real money to the table. Yet each "Visionary demands special modifications that overtax the R&D resources of the fledgling enterprise." They desire to exploit the new capability.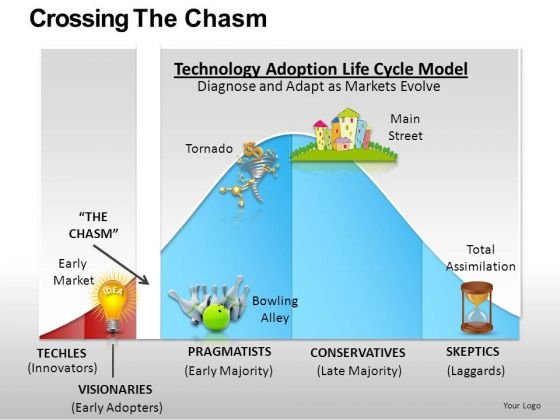 Innovators jump on the product at first, followed by Early Adopters, the Early Majority (Pragmatists) and Late Majority (Conservatives), to finally reach the Laggards (Skeptics). These various players have different interests. An entrepreneurial venture needs to go after the Early Market, which represents just 16% of the adoption. This typically takes a minimum of 10 years.
The Four Minute Books summary of Crossing the Chasm states, "People in the Early Majority are much more pragmatic. They don't want big changes and huge innovations, but rather incremental improvements based on using proven products and solutions. The majority wants to buy from established brands, but without having the majority buy your product, you can't become an established brand. This dilemma is what Moore calls 'The Chasm' and it's something all companies must overcome if they ever want to see their product become successful and reach the majority of the population." How do you cross the chasm?
The Solution
As Geoffrey Moore advises: (1) the chasm is a gap between Visionary Early Adopters and the Pragmatic Majority; (2) crossing the chasm requires securing a specific niche as a beachhead first; and (3) position yourself as a market leader in your niche by making a strong claim.
"When you contrast yourself with a market alternative (the traditional way of doing things) and a product alternative (a competitor, who uses the same technology, but in a different industry), you can easily position yourself as the leader in the new, combined field. This claim will allow you to focus exactly on your initial niche and eventually take the majority of the market share there, so you can then expand and dominate the rest of the market as well."
Example
Radish Systems' initial focus on healthcare is an example of positioning to cross the chasm. For healthcare businesses that have callers frustrated by cumbersome automated phone systems and dreading interactions with hard-to-understand live clinicians, Radish provides 'voice with visuals' self-service and live assistance. True Visual IVRs (Interactive Voice Response systems) from Radish offer callers, using any phone with browser access, the ability to see, hear, and save complex information right on that phone call. Compare this approach to telehealth video conferencing that requires use of specialized apps and unfamiliar call setup.
Summary
Entrepreneurs need to cross the chasm by focusing on a specific niche to become its market leader. Then expand.
Upcoming Public Events
September 5, 2018. Women Who Light Up the Community. Join Theresa, a past winner, at this event run by the Boulder Chamber Business Women's Leadership Group (BWLG). It annually honors women who have made significant contributions. 4:30-7:30 PM MDT at Boulder JCC, 6007 Oreg Ave. Learn more and register.
October 4, 2018. Boulder Valley IQ Awards. Join Theresa, a judge, at this event which honors companies that have been instrumental in developing the most innovative products and services. Radish Systems was an earlier winner. 5:30-8:30 PM MDT at Embassy Suites, Boulder. Learn more and register.
Practical Information for You
GIVE THE GIFT OF PASSIONATE PURPOSE. You can buy my book at the Passionate Purpose Store. It's a meaningful gift that keeps on giving.
RADISH. Interested in more of the Radish story? Follow Radish @RadishSystems or @ChoiceView on Twitter. And subscribe to Radish's RSS feed.
BLOG. Check out my latest Radish Sprouts blog posts about business, career, and life performance.
Begin Now — Resolve and Start Fresh!
Theresa M. Szczurek, Ph.D., CMC®
Radish CEO, Entrepreneur, Certified Management Consultant, Author, and Speaker
Pass it on. Feel free to share this newsletter, using my name and copyright declaration, with your colleagues.